Providing Complete Pole Barn Kits, Pole Buildings and More!
Pacific Pole Buildings and Barns is one of your top choices for custom pole barn buildings and custom pole barn kits in Oregon, California, and Washington. Whether it's an Ag, Commercial or Residential structure, Post Frame Building, or Post and Beam Barn, Pacific Pole Buildings and Barns specializes in custom engineered pole building packages and kits.
Pole barns, pole buildings, and post-frame construction describe the same building style. They evolved since the early 1900s, when people primarily used them for agriculture storage and animal shelters. More recently, people are looking at pole barn buildings as an alternative to the high cost of "stick frame" buildings.
Whether you need a pole barn workshop, horse arena, pole barn shed, mini pole barn, commercial building, airplane hanger, or residential dwelling (barndominium, shed-home, shouse, or barn-home), we design and deliver top quality buildings.  A Pacific Pole Building is the building we would design for ourselves!
Interest In Post Frame Residential Construction has sky rocked in recent years!
Pole Buildings have been used for generations to store agricultural produce and shelter animals. Now, these same structures are being transformed into stunning personal residences - affectionately known as 'barndominiums' - popping up across the landscape! Traditional housing takes months and starts with an expensive concrete foundation, then beams and floor decking, perimeter ventricle walls, and finally the roof system. The efficient combination of poles, trusses, purlins and girts along with a lot of nails, self sealing screws and bolts create a solid frame. The poles are secured in the ground with crushed rock or concrete. The roof system, usually built on the ground, starts with pre-built engineered trusses that span the width of the building. Horizontal purlins tie the trusses together to the support for the roof system. If the building will have walls horizontal girts are secured between each pole to support for wall material. In a few days, after the wood skeleton is built, metal or composition is used on the roof and metal, wood or composite material is used on the walls. In a matter of weeks a weather tight structure is ready for pouring the concrete floor. At that point interior walls, electric and plumbing are completed as needed. Saving both material and time pole buildings have become a viable building option with many uses.
The Pacific Pole Building and Barn Difference!
Our buildings are Pacific Specific: engineered for where we live. 1) Our engineer stamped plans are designed to accept OSB (Oriented Strand Board) or (plywood). Gone are the days when you could throw up a building without plans or structural integrity. Many local building departments require specific quality standards, wind loads, snow loads, and local soil composition, which factor into your building. 2) We only use 40 year warrantied metal manufactured in America for Superior quality metal. 3) If you select OSB or CDX to sheet your roof a "standing seam" or "Lok Seam" metal roofs are the finest roof material you can buy. With no exposed screws to leak and thicker 26 gauge material, these 16" wide panel will last 40,60, 80 years or longer. We call it our "Lifetime Roof"! 4) We are one of a few select companies that are distributors of laminated aluminum foil wall and ceiling wrap, not Mylar bubble wrap used by most companies. When properly installed on the walls and roof, this unique product provide R-8 to R-12 insulation value.
What is a Pole Barn?
Post Frame construction is the efficient combination of poles, trusses, purlins and girts along with a lot of nails, screws and bolts create a solid frame. The poles are secured in the ground with crushed rock or concrete followed by the roof and wall framing.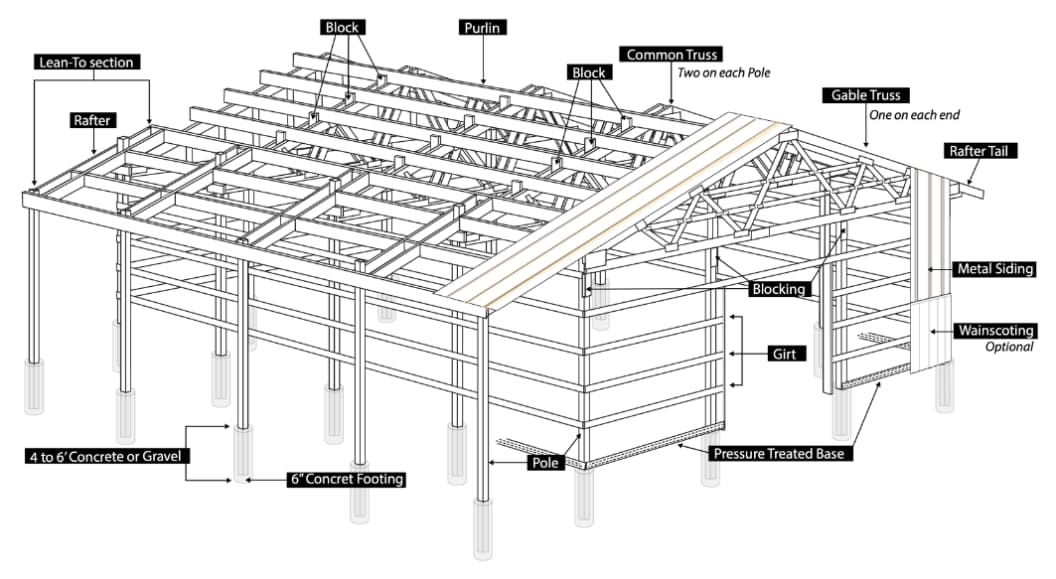 What best protects my building & contents?
Pole buildings have common problems with condensation collecting on the ceiling and walls. They are "moisture magnets". While most pole barn companies address moisture on the ceiling with ineffective vapor barriers, rarely addressed is wall moisture. Pacific Pole Buildings and Barns offers several proven product applications for the building's roof and walls, strengthening the overall structure, eliminating moisture in the building, and insulating with aluminum reflective foil, which helps moderate the temperature inside the building.
Outlined below are our roof and wall moisture control and insulation options!
Roof: Low-E ThermaSheet®
Walls: Low-E Class-A White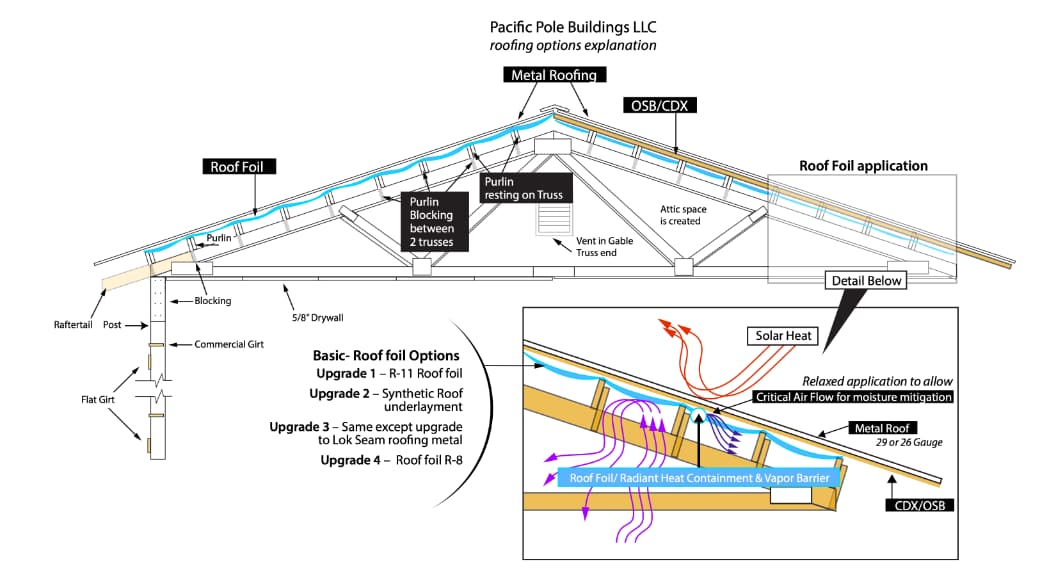 Custom Kits for Contractors and DIY Customers
You may want to go it on your own or, in most areas, we work with dependable and experienced Pole Building contractors who can serve your building requirements. Pole Buildings are becoming a viable market, and we are always looking for licensed contractors to meet the demand. If you are a contractor or know of one, please give us a call. Typical labor costs are around $10 to $12 per sq. ft. Your contractor will discuss their fees and costs of materials which may include pad preparation, any concrete pad or gravel requirements, footings, pole holes and overhead doors.
While we supply material and ongoing support, a contractor can excavate and prepare the site pad leveling with gravel which is the crucial first step to minimizing construction costs. The contractor provides footings, drills out the post holes, frames up the building, and installs metal or many different roof and wall material styles. They may also do concrete and have licensed electricians and plumbers available where necessary. A specialist should install gutters and overhead doors, one who can warranty the work and make adjustments as needed.
From providing engineered plans to the project's completion, Pacific Pole Buildings and Barns is there to support your building project from start to finish.
How
the process

works
Estimate - Getting it Right!
Experienced staff will go over the USE, STYLE and SIZE of your building. This will include a thorough discussion of options.
Engineering - 3 to 4 Weeks
If you require plans to be submitted for building permits, custom detailed drawings will be provided by Licensed Engineers for your State who will provide Preliminary Drawings for your approval which will be State specific stamped for permits.
Permitting Process - 3 to 4 Weeks
There are rare occasion your building department may request changes or have questions regarding your building. We are there to assist with any issues.
Ordering - 2 to 3 Weeks
Your building is a custom kit and materials are special order based on what is called out by the engineer and approved by the building department. Trusses are custom built and some lumber may require special attention.
Delivery - 2 to 3 Weeks
Materials will begin arriving to the building site ready to build. We will be available to answer any questions through the building process.
REQUEST A
QUOTE
Please submit your information below.
LATEST PROJECTS
From projects around the home to commercial use, custom pole buildings and barn kits offer great versatility in a durable form. Choose from garages, workshops, arenas, RV storage, or barndominiums - whatever your needs may be!