Steps

to

Minimize

Both

Time & Costs
Request for barndominium plans and designs have exploded in the last few years. Up front, we want to take you through the steps that will help minimize both time and costs involved.
The mistake often made is assuming a pole barn can become a barndominium without addressing crucial design differences. That's where our knowledge and expertise give you the assurance to move forward.
Contact your local building department and ask for a written copy of the specific building requirements they need. Not all building departments are on the same page.
Assume $80 to $120 per sq. ft. for material and labor to determine cost. Begin searching for a lender to verify if you qualify. We have several we have used. Get specifics on how they release the money, such as some require deposits.
Talk to one of our design specialists and write some rough drawings of exterior dimensions and interior design you want on paper. Our formal engineered plans currently cost $1.30 per sq. ft. of living space and 60¢ per sq. ft. for garage or shop space.
Engineered plans may take 4 to 6 weeks to complete. We include this cost in our deposit, representing about 33% of the total material.
Begin looking for several contractors to complete your building. Pole barn builders may need more expertise to complete the interior finish work, and finish carpenters may not be able to construct a pole barn.
You will also need someone to do the site prep, electrical, and plumbing. Depending on your location, we can refer you to pole barn contractors.
Submit the required paperwork, site plan, building plans, and truss engineering to your building department. Typical times are 3 to 6 weeks to issue permits. If changes to the plans are required, there could be minimal additional costs.
With final permits in hand, we work with the builder to provide a material list needed to complete your building. Our second deposit covers all the structural material—poles, trusses, sidewall girts, roof purlins, and roof or wall sheeting. Our last deposit is for the wall and roof material which can be metal, wood, composition, or a combination.
The exterior can go up quickly in 3 to 6 weeks, which allows you to begin lining up the specialty contractors to begin work on the inside. Whether you purchase interior materials from Pacific Pole Buildings and Barns or independently, we can provide what you need to complete your building.  
We have some of the most prominent National Suppliers, from lumber to plumbing to electrical, and even if a friend of a friend is doing the work.
REQUEST A
QUOTE
Please request a quote by filling in the form below.
Our buildings are Pacific Specific: engineered for where we live. Whether you need a pole barn workshop, horse arena, pole barn shed, mini barn, commercial building, airplane hanger, or residential dwelling (barndominium, shed-home, shouse, or barn-home), we design and deliver top quality buildings. A Pacific Pole Building is the building we would design for ourselves!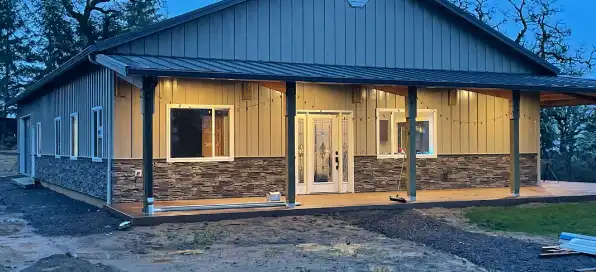 Our buildings have one thing in common. Each is uniquely different and specific to our customer's individual vision. Pacific Pole Buildings and Barns stand apart from other pole barns from the initial concept, material used, and unique designs. We bring character to each building!
When you desire superior performance, functionality, and beauty, you can count on Pacific Pole Buildings and Barns to provide only the highest quality pole barn building for your needs.